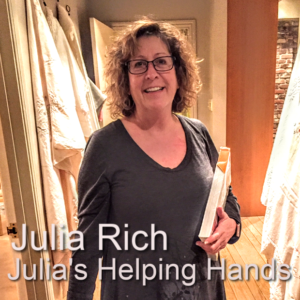 Hello, I am Julia Rich of Julia's helping hands and I have been helping people organize their homes and manage their busy lives since 2004 in the San Francisco Bay area.
My three levels of expertise concentrate on professional organization, estate sales and "clean out moves".
We believe that no home and no family are like. My passion is creating a clutter free environment that will help you get your life back on track and bring calm from chaos.
We use our organizational and people skills to assist individuals in creating living and working spaces that maximize productivity.
We can assist you in organizing your environment according to your needs and provide you with tools and strategies to maintain your newly developed organizational system.
With my background in sales and merchandising, and I have a successful reputation for creating exciting estate sales and have a lot of love for the process.
We have sold everything under the sun and enjoy the challenge. Our goal is to get the most value in return for selling the items as well as moving inventory.
All items are handled with the upmost respect. We clean, organize, merchandise and price all items prior to the sale. The flow of the sale is designed to move people through the home safely and efficiently as possible .
We love what we do and we create a fun and exciting atmosphere.
"Clean out moves", we coined the phrase ourselves with the need so prevalent in the bay area. In this fast-paced real estate market, everything needs to be done in record time. Downsizing becomes an important component. Why move things that are no longer needed or necessary in your life?
We organize and review everything before any boxes are packed. Room by room, garages, attics and basements will be sorted, and all unwanted items will be removed.
We sell, donate, and recycle items along the way so that your move will be organized and ready to pack.
Julia's Helping hands guides you through your most challenging transitional times. We listen to your needs and walk you through the process with caring and compassion and zero judgment.
We look forward to meeting you and hearing your story. Let's get to know each other.
Please feel free to call and set up your free consultation. Call me now, 650-245-8978